Using creative to boost engagement and reinforce culture
Speaking to our clients, it's clear that the return to work has taken on many different forms for different businesses. The hybrid working model adopted by so many, doesn't look the same from one company to the next. From the employee perspective, the appetite to return to an office setting is also mixed – where some people might be eager to get back to working with their colleagues in person, others feel more comfortable at home.
So how do you effectively engage your workforce when it's so fragmented?
The move to hybrid working
At the start of the pandemic, we saw a real shift in how we connect with coworkers. Face-to-face communication changed from across a desk to through a screen. But the basic human need for connection never went away – and neither did the very real business need for engagement.
Over various lockdowns, we've become better and more efficient at working remotely. Perhaps we've moved from a dining chair to a desk chair, or the edge of a sofa to a desk. For many of us, working from home has had many benefits. Flexibility, home comforts and a zero-hour commute. It's also opened up new opportunities – both for companies to recruit more widely and for employees to look for roles at businesses that match their values and ambitions more closely.
In fact, the shift in working practices has gone hand-in-hand with what has widely been called 'the great attrition'. Working from home – with all its benefits – has also created cultural disconnect. And with a workforce on the move, companies need to work harder than ever to engage and retain talent.
Creating comms to connect and engage a fragmented workforce
Whether on a hybrid or flexible basis, having a team working from home presents an added internal communications challenge. A recent report has shown that employees are seeking connection and a sense of shared identity. They want meaningful interactions – not just transactions.
So what role can communications play in building engagement? With only 9% of knowledge workers wanting to return to the office full-time, it's clear that hybrid working is here to stay. When it comes to internal comms, the challenges may be different, but the fundamentals of communication are the same. The need for connection and engagement haven't changed. We have the tools. It's the channel mix that changes.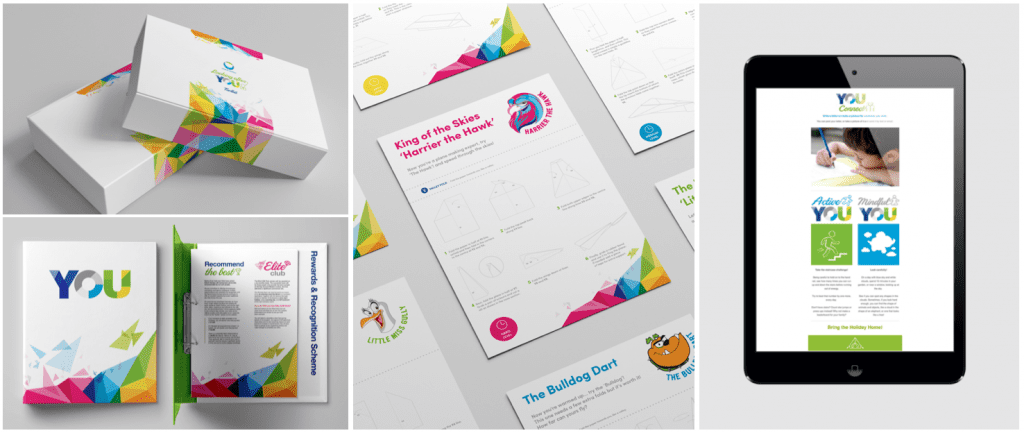 How can your creative agency support in building connection between employer and employee?
By creating a platform for internal communications and leveraging a consistent look and feel, it's possible to build a sense of shared identity. The right mix of communications can help employees feel truly connected and embedded in your company. This, in turn, builds positive sentiment and loyalty.
Your creative platform needs to be accessible both on- and offline, at the office or at home, at any time of the day. Building an internal brand that's always-on, enables you to inform, engage, encourage, and guide behaviour. A harmonised tone of voice, and look and feel, securely underpin business-critical and social communications.
Taking a multi-channel, multi-format, always-on approach
Regardless of where your staff are basing themselves on any given day, your communications need to meet them where they are. It might be in the car on the way to the office, walking the dog at lunchtime, sitting at a desk or at the kitchen table – you need to be reach employees when they're ready and wherever they're situated.
Using consistent branding across a mix of channels, communications can be delivered in a format that resonates with each individual. They need to be frequent, sustained, measured and optimised. It might be in print, it might be in an email or through an event – regardless of format, the conclusion is clear: a hybrid workforce requires a hybrid approach to communications.